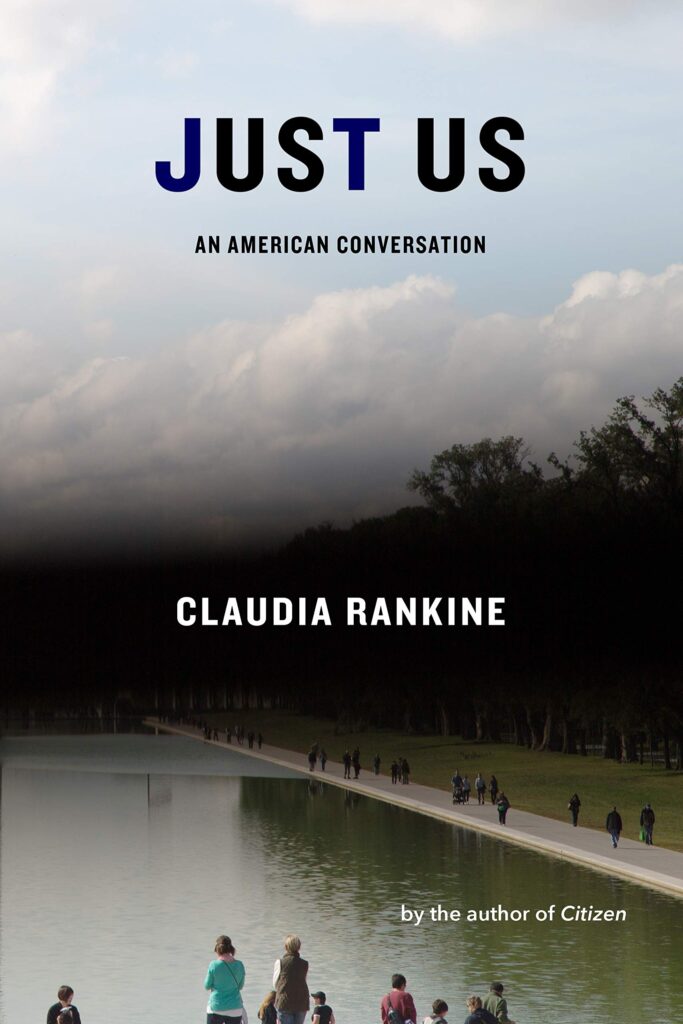 Claudia Rankine
Just Us: An American Conversation
Graywolf Press, 2020
352 pages
$30.00
Reviewed by Jennifer Sapio
At the inauguration of the forty-sixth President of the United States, Amanda Gorman read a poem, which has since rocketed her to global stardom, entitled "The Hill We Climb." In it, she writes of the transformative experience America has undergone in the past four—and indeed, four hundred—years. On January 13, 2021, Gorman stood in her power as a Black woman before the world and recited, "We've learned that quiet isn't always peace / And the norms and notions / of what just is / Isn't always just-ice." This play on the words "just is" and "justice" seemed to me to borrow directly from the third in Claudia Rankine's trilogy, her most recent work entitled, Just Us; it catalogs the isolating experience—the "ethical loneliness"—of Black women carrying the lamp of justice alone in the US. Rankine begins the last installation, after Citizen, with an epigraph by Richard Pryor: "You go down there looking for justice, that's what you find, just us."
Professor Rankine's multi-medial book is hard to classify; it is expansive as the legacies of racial injustice in America. Rankine includes imagery, art, evidence, poetry, and essays to build a paradigm through which to view the world. In a facing-page format, Rankine juxtaposes personal narrative, and scene work on the right, with fact-checking, research, and annotations on the left side. This doubleness functions to illustrate the mismatch, all too often, between the ideals of America and the lived experiences of its inhabitants, on a broad scale, but also, in interpersonal relationships, the gaps of perspective and/or empathy where racial difference plummets into ignorant and painful interactions.
Conversations abound in Just Us: between friends, awkward conversations at dinner parties, at the airport, conversations Rankine had with her therapist. In each of her twenty-one chapters, Rankine's lyrical poetic gestures, and/or her urgent prose, penetrates through superficiality directly into the human experience. As in her previous collections, Rankine points directly to the problems of whiteness that institutions and power structures work so purposefully to obfuscate: "I am here, without the shrug, / attempting to understand how what I want / and what I want from you run parallel— / justice and the openings for just us." She calls out structural racism in college admissions, as well as pre-schools; in the selection and promotion of leaders of the land, like Justice Brett Kavanaugh; the vilification of Harry and Meghan; the explicitly racist language of Florida governor Ron DeSantis, among so many others. She also delves into deeply personal ways that she wrestles with racial power dynamics in her own life, for example, in the chapter entitled "Lemonade," in which Rankine describes couples therapy sessions with her white husband, as well as "Daughter" in which she illuminates a scene at her daughter's school, a predominantly white institution of learning.
Some of Rankine's most powerful interventions come in the form of simply highlighting what, in Gorman's words, "just is." Rankine's chapter "notes on the state of whiteness" is a facsimile reproduction of sections of "NOTES of the State of VIRGINIA; written in the year 1781," which includes lines regarding the enslaved humans in the state: "they seem to require less sleep" and "Their griefs are transient." The horror is apparent on its surface, if one only looks, Rankine seems to argue. She cites other "DATA" detailing instances of institutional as well as interpersonal racism and white supremacy: transcripts of videos, presidential phone calls, 911 operators, as well as personal letters and emails that make the case for themselves. This seems to be the strategy of Rankine's argument here, as she writes, "To live only in the archives of conversations is, perhaps, to see what the culture has formed, willingly." Only by attentively listening to the archive, and by attending to forms of white supremacist delusion operating presently in our daily lives will we ever see change.
Rankine perhaps also questions whether a union is possible, in the sense of a conversational convergence of minds, or a political or existential sense, writing, "Let me ask you or just tell me why or, better yet, how can we? / But who is this 'we'? / Is it even possible to form a 'we'?" Rankine seems not to despair, however. In Just Us, Rankine offers readers of all stripes— students, teachers, historians, politicians, political scientists, and scholars of popular culture and American Studies— an essential representation of life in the United States right now. Perhaps surprisingly, therefore, the last lines of the last installment in this timely and timeless trilogy ring with hope. Like only a poet can do, Rankine brings the reader to the breathless anticipation of possibility. She writes, "What I know is that an inchoate desire for a future other than the one that seems to be forming our days brings me to a seat around any table to lean forward, to hear, to respond, to await a response from any other. / Tell me something, one thing, the thing, tell me that thing." It's up to us all to respond to her call.