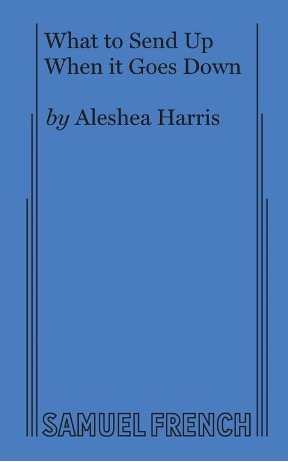 Aleshea Harris
What To Send Up When It Goes Down
Samuel French, 2019
76 pages
$9.95
Reviewed by Zachariah Ezer
Experimental theatre in the United States is often associated with alienation and indigestibility, mainly due to its roots in downtown New York's 1970s Off-Off Broadway scene. Aleshea Harris's What to Send Up When It Goes Down, however, places a radical inclusion at its core and welcomes all audience members to share in a ritual together. Much of this reprioritization is owed to the play's stronger affinities with Black members of the avant-garde and the Black Arts Movement than traditional experimental influences that eschewed comprehensibility in favor of spectacle and provocation.
The piece is a ritual play, to be performed on the occasion that a Black person is murdered due to racial violence. The play incorporates audience participation, songs, and spoken word, in tandem with more standard theatrical devices, in order to conduct a service that welcomes everyone, but exists primarily for Black people in general, and—at each performance—a different slain Black person in particular. In form, What To Send Up When It Goes Down is reminiscent of Ed Bullins's ritual experiments at The New Lafayette Theater and Barbra Ann Teer's Ritualistic Revivals at The National Black Theatre during the late 1960s and early 1970s. Both incorporate a deep reverence for what ritual means in the context of African cultural performance, but Harris updates Teer's and Bullins's reference points for a contemporary audience and emphasizes her cast of characters, ensuring narrative arcs to follow throughout the piece, in addition to the steps of the ritual.
The actors begin hidden within the audience, only revealing themselves to be part of the troupe as their roles in the evening's production become apparent. They begin by leading a sharing of empathy and personal experience, revealing the stark contrasts between Black and white participants' lived realities. Then, they reorient themselves for a second movement: a series of quick sketches that give Harris's razor-sharp wit space to eviscerate Black-white relations in twenty-first century American life. The quick adoption and switching of characters betray an influence of Adrienne Kennedy and Ntozake Shange in the play, but as with Bullins and Teer, Harris takes the fertile clay of her forebears and molds it into a piece immediately comprehensible and resonant to any in the audience.
What to Send Up When It Goes Down is first and foremost a ritual; and in a ritual, each participant has a role. While the actor designated Two is a master of ceremonies, the actor playing Seven is a sacrificial lamb whose symbolic death stands in for the true demise of the honoree of the evening's ceremony and every Black life snuffed out prematurely. It is after this funeral rite that the audience is once again reminded of their role in the proceedings. In the final movement of the piece, non-Black members of the audience are asked to leave the theater, where they are educated on what they can do to support their Black friends and neighbors. Meanwhile, the Black members of the audience are led in a call-and-response chant to celebrate their freedom from scrutiny and their unapologetic Blackness. Through this communion, they are reminded that their role in Harris' ceremony is to simply be.
This play has had a robust life, first Off-Off Broadway, then on a national tour, before finally returning Off-Broadway in New York. The work is a visceral look at unfathomable grief and a spirited protest in the form of a cathartic release. The day may come when this play is no longer necessary, but as it stands, there are few pieces of art better equipped to handle this devastating (and, unfortunately, all too common) situation.