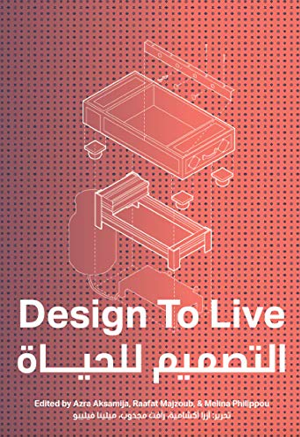 Azra Akšamija, Raafat Majzoub, and Melina Philippou
Design to Live: Everyday Inventions from a Refugee Camp
MIT Press, 2021
344 pages
$32.95
Reviewed by Liz Bender
In Design to Live: Everyday Inventions from a Refugee Camp, authors Azra Akšamija, Raafat Majzoub, and Melina Philippou document the lives of displaced Syrians living in Azraq Refugee Camp in Jordan. The book reads as a polished set of field notes woven together with narrative text. The authors showcase the ingenuity of Azraq's inhabitants by presenting an extensive array of documents—including photographs, handwritten notes, creative writing, transcribed interviews, and design sketches for various inventions—compiled over four years at the camp. At its heart, Design to Liveis an ethnographic collaboration between the artists, engineers, teachers, and writers living in Azraq and the researchers driving the project—namely, professors and students at MIT's Future Heritage Lab, directed by Akšamija, and their Syrian colleagues. Despite its origins in academic research, Design to Live appeals to a broad audience. The matter-of-fact, journalistic writing style parallels that of a documentary script, and adding to its accessibility, the book does not presume the reader is familiar with the conflict in the Middle East that led to the creation of the refugee camp. In fact, the authors seem to stray away from imbuing the text with political background altogether. This choice foregrounds Azraq's residents and their talents as the focus of the story. Rather than objects of sympathy or pity, the refugees are portrayed as role models.
Part of Design to Live's brilliance lies in its stunning physical form and organizational structure. Both the book's global structure as well as its individual pages are formatted with great intentionality, accentuating the theme of creativity. The cover is suede-like and pleasant to the touch, and it curiously appears to change color in different lighting. Perhaps most noteworthy, the text is written in both Arabic (which is read from right to left, back to front) and English (read from left to right, front to back), with corresponding page numbers for both languages. Other than the variety in audience this publishing choice clearly affords, the English and Arabic side-by-side creates a worldly reading experience. Additionally, the book's non-traditional narrative style is thoughtfully organized around the artifacts (interviews, design sketches, etc.), which are segmented conceptually. For instance, Section One, 'Perspectives on Life at the Camp,' includes a poem, two interviews (one about the importance of creative writing and one about humanitarian organization CARE International's role in Azraq), and photographs of the camp and interviewed residents. Later chapters, such as those in Section Five, 'Energy,' contain dozens of sketches, software renderings, and photographs of prototypes for inventions designed by Azraq residents. Altogether the choices made in its layout and publication qualify the physical text as a meta-case study of design, echoing the refugees' brilliance.
Albeit a familiar paradigm, resilience in the face of adversity is refreshingly demonstrated through the refugees' stories of hope, perseverance, and agency. One poem by a few Azraq residents elucidates: "…here, dignity is invented / inspired by heritage / overcoming scarcity / to exceed your comforts / living memories of home / still human." From makeshift ovens to plush toys made of thermal blankets, their innovations make evident the human capacity and will to flourish in the harshest of environments. Opened in 2014, Azraq is one of fifteen refugee camps in Jordan and houses around 35,000 displaced Syrians. In addition to the turbulence of the civil war that engendered the camp, the refugees encounter many daily challenges inside Azraq. Readers will learn about the environmental and infrastructural conditions that create scarcity of resources in refugee camps and the residents' resulting design solutions. For instance, situated in a desert, Azraq struggles with access to water. Despite NGOs distributing Core Relief Items (CRIs), which are items needed for basic human survival, there are often not enough to address the totality of water scarcity. Several of the most fascinating inventions outlined in the book respond to this issue, such as several iterations of water tanks and carts for driving them.
While many featured innovations are generated due to resource limitations, some of the most captivating are ideas born to establish a sense of personhood. The establishment of formal and informal education networks is one imperative effort undertaken by several enterprising leaders in Azraq's refugee community. In the beginning, the reader is introduced to two youth leaders that spearhead the camp's educational efforts: Mohammad Abdullah Al-Mezael, one of the founders of the Azraq Journal, a periodical that circulates news to the camp's refugees, and Muteeb Awad Al-Hamdan, a teacher who developed university entrance exams as a way for the camp's students to continue their education beyond the camp, when the time comes. Their stories quickly familiarize the reader with the refugees' determination to create a livable environment, disbanding any preconceived notions that education is unattainable in a refugee camp. These leaders create agency over their lives in a world that seems devoid of it.
The authors also dedicate two sections to innovations stemming from the desire for intimacy and fellowship. In 'Intimacy,' the designs center on forging closeness with family and community members. Cultural intimacy acts as a critical world-making element, breathing life into the otherwise sterile camp ecosystem. That said, the authors discuss the precarity of cultural memory in creating new spaces:
The topic of memory is very sensitive […] the understanding of what amounts to 'heritage' becomes more or less warped, and the relationship between reproducing physical spaces and cultural practices is contentious. My view is that heritage preservation is not about recreating, for example, the exact park where people used to play in Aleppo, but in understanding and facilitating new experiences and games that are based on the qualities of the original.
Here, the authors intriguingly distinguish between refugees honoring their cultural customs and life before arriving at the camp from perpetuating traumatic memories. One example of successfully incorporating Syrian culture into Azraq is the construction of Majilis, a traditional style of seating designed for welcoming guests. As one resident explains, "When the weather is nice, everything happens here. We play cards, we eat lunch and dinner, we invite people over." The Majilis give the refugees a sense of community and continuity with their culture, carving out a life for themselves in a seemingly uninhabitable place, without evoking the traumas of war. Majilis exemplify the need for humanitarian design in refugee camps, a gap and call to action that the authors assert at the end of the text. In the closing chapter, Mohammad Yaghan, a Professor of Design and Visual Communication at the German Jordanian University, asks: "What does an ethical approach to livelihood under conditions of displacement look like?" to which the authors acknowledge there is work to be done.
Anyone with a curious mind should consider picking up Design to Live: Everyday Inventions from a Refugee Camp. Academics and practitioners specializing in design, architecture, engineering, world-making, border rhetorics and politics, sociology, and international relations will find it valuable. The scale of the project is admirable as well: the vast, cross-cultural network of researchers, refugees, local organizations, and institutional partners that collaborated to make this book possible may further inspire those seeking to design longitudinal research studies rooted in community partnerships. Indeed, partnership will be a vital component of addressing the humanitarian design gap.