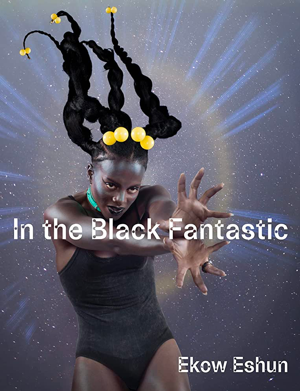 Ekow Eshun
In the Black Fantastic
MIT Press, 2022
304 pages
$39.95
Reviewed by Andrea L. Richardson
Flying Africans. Magical conjure women. Mythical journeys across oceans, time, and space. Through the collection of works exhibited within In the Black Fantastic and the accompanying analytical essays written by himself and others, Ekow Eshun invites us to engage with these Black mythologies and to think through the question: How do Black artists envision and convey new possibilities of Blackness despite the trauma that informs the African diasporic experience? Eshun encourages us to embrace "a new way of seeing" through the Black fantastic. Expanding upon Hayward Gallery's critically acclaimed 2022 exhibition of the same name, In the Black Fantastic utilizes invocation, migration, and liberation to thematically underpin its survey of the body of artistic work that Eshun designates as the 'Black fantastic.' Images are sequenced "outside of the normal conventions of chronology, media, and genre" resulting in a vibrant, thought-provoking, and diverse assemblage that leaves readers with much to (re)consider.
Eshun's introduction outlines the themes for the exhibition and showcases the work of its twelve participating artists who come from various parts of the African diaspora: Nick Cave, Sedrick Chisom, Ellen Gallagher, Hew Locke, Wangechi Mutu, Rashaad Newsome, Chris Ofli, Tabita Rezaire, Cauleen Smith, Lina Iris Viktor, and Kara Walker. This diverse roster boasts painters, collagists, sculptors, and new media artists engaging themes of Blackness, Black futurity, reimagining, and self-making. Their works all fall under the umbrella of the Black fantastic, which Eshun defines as "works of speculative fiction that draw from history and myth to conjure new visions of African diasporic culture and identity." With its roots in an understanding that race is a social construct rather than a fact of science, the Black fantastic is critical of Western modernity. Although it shares commonalities with magical realism and, especially, Afrofuturism, Eshun takes care to delineate the 'Black fantastic' from other categories. Unlike magical realism, the Black fantastic "finds productive tension in the to and fro between the everyday and the extraordinary;" and unlike Afrofuturism, Eshun's Black fantastic is "less a genre or a movement than a way of seeing, shared by artists who grapple with the legacy of slavery and the inequities of racialized contemporary society by conjuring new narratives of Black possibility." One of the prevailing critiques of Afrofuturism is that it ignores forms of Blackness that existed prior to enslavement, and that it is heavily centered on the African American experience, leaving little room for diasporic explorations. In the Black Fantastic proposes an artistic movement that is diasporic by design, and in doing so challenges us to consider the limitations of Afrofuturism as a definable and definitive movement.
Eshun takes great care to curate every piece in this text in such a way that highlights each work's uniqueness and cohesion to one of the collection's highlighted themes—either invocation, migration, or liberation—while also making "audacious juxtapositions." For example, some works that are especially impactful include Lina Iris Viktor's vibrant and eclectic Sixth in her A Haven. A Hell. A Dream Deferred series, and Sedrick Chisom's The Fugitives of The Southern Cross Gathered With the Monstrous Races Beneath a Juniper Tree along the Outer Realm of the Savage South. Sixthfeatures a Black woman donning her deep red hair in a braided updo and black paint in the shape of a mask over her face. She wears a white tulle dress with red, white, and blue embroidered floral designs. Behind her are dark blue palm leaves over a gold and red background, and she stands over a pattern of gold-colored stars in a night blue sky. The woman's hands are outstretched (though one is concealed by the tulle of the dress) and her eyes gaze back at the viewer, altogether enacting a beckoning pose. Viktor's A Haven. A Hell. A Dream Deferred is an "imaginary mapping" of the history of Liberia, the country to which she traces her family origins. Chisom's The Fugitive is a stark contrast, consisting of blurry human-like figures in a fiery red hellscape, and a tattered confederate flag hanging from the branches of a dead tree. The Fugitive is part of a series that depicts a nightmarish dystopian future wherein people of color have disappeared from the Earth and the remaining white people are divided into two tribes "locked in a futile war" while the planet declines around them.
Eshun's writing offers historical and cultural background for the art he analyzes as well as astute social commentary. He traces historical moments, including the Middle Passage, the moon landing, and independence era Africa, in and through the works of art in the text. He discusses Olaudah Equiano's (author of The Interesting Narrative of the Life of Olaudah Equiano, or Gustavus Vassa, the African which was later adapted into the film Twelve Years a Slave) life after he purchased his freedom, proposing him as a "prototypical Black diasporic figure" and as an example of how "a Black person might journey through a world that treats them as alien and Other." In addition to traditional visual art, Eshun is in conversation with films, music videos and album covers in ways that show the myriad possibilities for "the connections that can be made across art forms and time." In addition to Eshun's commentary, the text also includes extracts and supplemental essays written by Kameelah L. Martin, Michelle D. Commander, Adriano Elia, W. Ian Bourland, and Tobias Wofford. These additions help to flesh out the world of the Black fantastic, elaborating on the themes of invocation, migration, and liberation through textual, historical, and cultural analysis. In "Black Feminist Voodoo Aesthetics, Conjure Feminism, and the Arts," Kameelah L. Martin invokes Black women's ancestral knowledges (spirit work, healing, herbology) as an epistemology, calling it "conjure feminism." She analyzes films such as Daughters of the Dust and Eve's Bayou to trace a genealogy of the use of voodoo and conjure aesthetics in Black women's art. W. Ian Bourland proposes an analysis of NASA's space exploration in "Afronauts: Race in Space" that gives the reader historical context that inform other parts of the book.
This book is atypical in its organization, its style, and its content in a way that will be refreshing to many readers. It will be of particular interest to Black artists, activists, and scholars of Black studies, especially those concerned with Black futurities, speculative fiction, and Black spiritualities. An excellent companion to the original 2022 exhibition, In the Black Fantastic fleshes out its eponymous concept and engages in conversation with iconic Black thinkers such as Zora Neale Hurston, Octavia Butler, and Toni Morrison in novel and remixed ways. Readers want to revisit these thinkers' texts and read with new lenses after they finish Eshun's well-devised work. The Black fantastic invites us into new ways of seeing Blackness, Black histories and futures, and Black expressions, in an uplifting and forward-thinking way that echoes the last piece Eshun shows us: "There Are Black People In The Future."