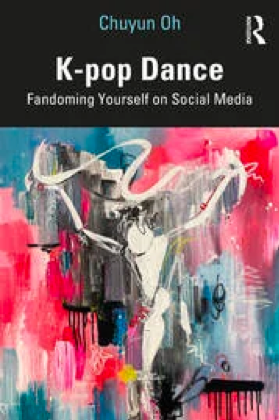 Chuyun Oh
K-Pop Dance: Fandoming Yourself on Social Media
Routledge, 2022
194 pages
$52.95
Reviewed by Haneul Lee
"Can dance be a tool to dream an alternative life into reality?" With the global popularity of K-pop, K-pop dance has become more visible on social media and streaming platforms such as TikTok or YouTube. The global fan-dancers' viral engagement in K-pop dance through social media has signaled the changing relationship among dance performances, fan-dancers along with their identities, and digital media technologies. In her book, K-Pop Dance: Fandoming Yourself on Social Media, native Korean professional dancer and dance scholar Chuyun Oh traces what has made K-pop dance popular today and how global K-pop fan-dancers have (re)appropriated it. Oh's performance ethnography illuminates the role of dance in K-pop, the transcultural reenactment of K-pop dance by global youth through mundane media devices and technology like mobile phones, and the cultural and sociopolitical implications of performing K-pop dance in on- and offline spaces.
Unlike other transitional pop music, K-pop is not just a commodity produced for listening. Rather, it is more likely to be received as a visual-centric music performance by the global media market and its consumers. Its sophisticatedly choreographed dance visualizes the mood of the lyrics by K-pop idols' performance embellished with luxury clothes and makeup. Such a visual aspect of K-pop is one of the essential factors to achieve from the industrial side to capture global fans' attention. Furthermore, the corporate-led promotion of official videos—choreography drafts, dance practice, dance performance versions of music videos, or even short reels—confirms that K-pop dance also serves as an additional resource for K-pop powerhouses to commercialize the (un)professional fan-dancers' interests in it. They circulate various forms of dance videos via online platforms with the hashtag #K-popdancechallenge and call for global fans to take part in promoting their favorite K-pop idols and performances. To heighten the benefit of utilizing such a fan-dancer culture, K-pop dance is often choreographed as "TikTokable," which is not too difficult to imitate compared to other professional dance genres.
Yet, as Oh has observed, fan-dancers also intend to reappropriate the corporate-made K-pop dance videos as a source of their cultural labor for embodying their desires to express themselves to others by remediating social spaces on- and offline. She highlights that fan-made K-pop dance cover videos inform the rise of "social media dance," what the author calls a "social-popular dance of the global youth on social media." This term implies the radical shift in the aesthetic conventions of stage performance in the digital age under COVID-19. Compared to traditional Western concert dance like ballet or modern dance and folk dance like salsa or hip-hop, K-pop as social media dance has been mostly performed to post on social media. Such an aspect sheds light on the function of social media as a new theatrical space. The global youth fan-dancers' affective engagement in the global commodities in the form of reenactment of K-pop dance in that space has also changed a "habitual ritual" of their media consumption for self-representation. Showcasing their reenactment of K-pop dance on social media unsettles the boundary of reality and fantasy, professionalism and amateurism, and differences in race, ethnicity, gender, and languages, leading to identity passing.
Oh's expansive review of the emergence of social media dance as a new performance genre around the globalization of K-pop is carefully integrated with her multi-sited ethnographic research on the global K-pop fan-dancers, especially diasporic youth in Asia and America. K-pop dance has been utilized as a site where race and ethnicity are reimagined and negotiated by diasporic youth. The interracial and interethnic K-pop dance cover performances by college students from a Latin American immigrant family or South Asian teen refugees in the United States embody their racial and diasporic identity passing in a playful manner. Here, it is important to note that such a bodily engagement in K-pop dance turns into a collective gesture of resistance to the intergenerational trauma of displacement and structural discrimination against their racialized bodies in the diaspora. The cultural resistance to structural marginalization is to "make a statement" that they are rehabilitating their marginalized voices and making them more visible beyond where they belong now. In that way, the diasporic youth has used K-pop dance as a platform to continue growing a sense of belonging despite their limited access to resources—media equipment, professional dance training, and so on.
As the author asserts, such an interracial or interethnic reappropriation of K-pop dance as an alternative subcultural segment also grapples with the cultural misconception of K-pop stemming from a racial and ethnic stereotype formed in the West. Another compelling case study of K-pop dance performance in public is that a fan-dancer's body could disturb the existing racial hierarchy. The case of a White American K-pop dance fan girl performing a K-pop dance in Japan shows how their public dance practice reverses the logic of racism. Reverse racism does not only come from the hypervisibility of a White female body, which is different from the racial majority in Asia. Considering that verbal communication among the same dance group members is extremely important, the language barrier she faces also makes clear that she gets positioned as a racial minority there.
Oh's awareness of structural inequalities among K-pop fan-dancers, which come from their social and economic positions that determine the level of access to material resources for embodying their cultural labor, is valid and cannot be ignored. Yet we need to keep in mind that the author pays scant attention to the precariousness of fan-dancers' labors of love under the logic of the platform economy that exploits the participatory culture. Especially in collaboration with global platform owners like YouTube or TikTok, the K-pop industry has also monetized the fan-dancers' cultural labor of rematerializing K-pop dance through their bodies together with media technologies. The corporate exploitation of the fan-dancers' labor of love as a source of viral and global promotion of K-pop commodities, including music, dance, and K-pop idols' fashion and makeup, is an ongoing problem that needs further discussion in media, culture, and fan studies.
Still, despite the lack of sufficient criticism of the K-pop industry and its economy, Oh's book makes a significant contribution to K-pop as a growing subject of study by illuminating the affective value of K-pop dance and choreography as a tool for coping with the harsher reality, including the structural oppression of marginalized subjects. Here, we must return to the earlier question: "Can [K-pop] dance be a tool to dream an alternative life into reality?" The answer is yes and no because K-pop as social media dance has been made as a new home for global and diasporic fan-dancers until the global youth's desires change and a new subculture emerges for them.