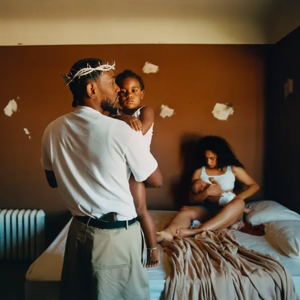 Kendrick Lamar
Mr. Morale & the Big Steppers
Lang/Top Dawg Entertainment/Aftermath/Interscope Records, 2022
78 minutes and 37 seconds
Streaming for free on Spotify
Reviewed by Allison Pujol
Kendrick Lamar's highly ambitious fifth studio album Mr. Morale & the Big Steppers begins with a harmonized prayer offered up to some indifferent and unsatisfied god: "I hope you find some peace of mind in this lifetime / I hope you find some paradise." Whitney Alford, Lamar's longtime partner, then pleads, "Tell them, tell 'em, tell them the truth." Throughout this album, Lamar seems to find that the two ideas – peace of mind and telling the truth – are, in fact, connected.
Lamar's silence for the past five years perhaps mirrors the writer's block and depression described in the first track "United in Grief." The rest of the 19 tracks on the album lay out a nonlinear, and often messy, path towards his healing which involves a candid openness about his life in the aftermath of fame's all-too dizzying headrush. In "Worldwide Steppers," for example, he addresses his status as a household name in the world of hip-hop and rap as well as his overwhelming commercial success, admitting all too easily that he "bought infinity pools [he] never swimmed in" and "bought a couple of mansions for practice." But, heavy is the thorned crown of fame – in "Crown," Lamar describes the pressure to constantly produce content to appease the hip-hop industry and millions of fans: "They idolize and praise your name across the nation / Tap the feet and nod the head for confirmation / Promise that you keep the music in rotation / That's what I call love (That's what I call love)." Speaking of himself in the disembodied third person point-of-view, Lamar makes an argument about the status of Black celebrities as beacons of hope for their homes and communities, repeating that "Kendrick made you think about it, but he is not your savior" in "Savior." The self-serving, toxic role of the consumer and/or listener in a culture that values the hyper-visualization of anti-Black violence is also called into question: "Mr. Morale," the 7th track of the album, point-blank asks us "what [we] know about Black trauma?" Notably, Lamar's decision to speak truth to power and begin healing involves eviscerating the profit-driven music industry that carried him to the top in the first place.
In conjunction with critiquing the music industry, Lamar closely examines his "lust addiction" and the way intergenerational trauma has scarred him and his family. This is where Lamar is the most vulnerable about the weight of his personal life, as Lamar mentions Whitney Alford by name and features her voice throughout the album in a variety of contexts. In "Father Time," Lamar bemoans the dominant cultural scripts in Black families that "Men should never show feelings." Alford's role in this song is to provide a glimpse of humor and a dose of reality. On this track she mutters "You really need therapy" amidst the plaintive hum of violins—one can almost picture her shaking her head while speaking. The emotional climax of the album, "We Cry Together," presents as a heated fight between a pair of lovers whose positions within the argument mirror those that Lamar and Alford hold as public figures. For nearly six minutes, the couple (played by Lamar and actress Taylour Paige) lobs insults at each other. While the fight is admittedly difficult to listen to because of the implications that the fictional couple mirrors the real relationship at stake for Lamar. Likewise, the song also links the fight itself to the broader complicity of men in the subjugation of women. "You the reason why strong women fucked up / Why they say it's a man's world, see, you the reason for Trump / You the reason we overlooked, underpaid, under-booked, under shame," sobs actress Taylour Paige, later tearfully continuing, "You the reason Harvey Weinstein had to see his conclusion / You the reason R. Kelly can't recognize that he's abusive."
Such brutal honesty – much like every type of catharsis – comes with a cost. The track "Auntie Diaries" attempts to confront the rampant transphobia Lamar witnessed within his own family and broader community, arguably only repackages that transphobia to couch it in more socially "acceptable" terms – beginning (and certainly not ending) with the creative decision to refer to his uncle who had transitioned as an "Auntie" who is a "man now." The song is widely regarded as the most controversial on the album, and I opine that it is characterized as such because Lamar both openly discusses the illusions of compulsory heteronormativity particularly entrenched within communities of color while engaging in examples of the homophobia and transphobia he critiques. While Lamar's choice of words in this track reads as utterly indelicate, and while I cannot condone the use of homophobic slurs, I believe he is trying to make a broader claim – granted, with seriously risky execution – about the long-lasting effects of seemingly benign conditioning "since birth" in cultivating insidious forms of hatred and injustice against trans people. "See, I was taught words was nothing more than a sound," he raps, "If everything was pronounced without any intentions." And yet, we all – including of course the songwriter and lyricist Kendrick Lamar – know now that it's not that easy. Words have meanings. The words we choose to say can have a tangible impact on others' lived experiences, however indelible and profound. For me, at least, "Auntie Diaries" provokes more questions than it answers, including one that evades a simple response: what happens when your decision to speak your truth hurts somebody else?
Whether or not his intentions are pure, it is abundantly clear that this album is ultimately Kendrick's confessional. To truly grapple with the legacy of the hurt in his family, Lamar must acknowledge his tumultuous upbringing and the hatred he witnessed in his own community – however painful, imperfect, and problematic. This effort culminates in an eventual release of information about Lamar's childhood in "Mother I Sober," which acknowledges the gaps in Lamar's memory regarding potential sexual abuse from an older family member. Lamar represents the effects of this familial legacy of pain and uncertainty through the image of his grandmother haunting him both physically and psychologically: "My mother's mother followed me for years in her afterlife / Starin' at me on back of some buses, I wake up at night." Trauma, it seems, follows us like a ghost on a cold night – everywhere and nowhere all at once. At the end of the album, however, Lamar returns to the same musical motif utilized in the first track and admits that he finally feels free after "bar[ing] my soul." I find myself returning to this album again and again to ask myself whether it is appropriate to listen to it – would I listen to a stranger's therapy session? It also seems that inexplicably insensitive, at times. In any case, the axiom often said at AA meetings and funerals seems to apply here: hurt people hurt people.Time and time again, the ever-elusive, artistically-experimenting, Pulitzer-winning Kendrick Lamar has proven his depth and mastery as a storyteller. Some of his previous albums such as good kid, m.A.A.d city and DAMN, to varying extents, have centered on fictionalized narratives. However, in Mr. Morale & the Big Steppers, Lamar turns inward, throws caution to the wind, and steps forward as himself for the first time. This is when Kendrick Lamar tells us the truth, at whatever cost. And all we can do is listen.