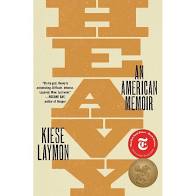 Kiese Laymon
Heavy: An American Memoir
Scribner, 2018
256 pages
$16.00

Reviewed by Samantha Allan
What is weight? In Heavy: An American Memoir, Kiese Laymon suggests that it depends on whether you see excess or abundance; flesh or a body; baggage, or the story of a young man navigating a fractured relationship with his mother and his country. Crucially, Heavy positions somatic awareness as a reference-point for generating the language to discuss trauma, failed love, and injustice. To treat this awareness as a source of authority, Laymon must also navigate the prevailing conclusion that his body is trying to destroy him, either due to the body's mere existence in a white supremacist nation bent on obliterating African American men, or through the acts of self-harm, addiction, and negation the body manifests in order to counter its expectation of powerlessness. A young Laymon must weather frustrated attempts to put these experiences into words under the tutelage of a beloved but abusive parent. Years later, Heavy masterfully wields language to explore the part words play in constructing—and deconstructing—the weighty illogic of racism that attempts to render him speechless.
Although Heavy begins, "I did not want to write to you… I wanted to write an American memoir," Laymon frames his story as a letter to his mother. The text's introduction couches the necessity of this address in a variety of "titillating" stories that Laymon wanted to write, but that ultimately "discovered nothing." Didactic narrative modes in fiction and memoirs about racism that "center a something, a someone who wants us dead" but promise black America's salvation through a combination of white sympathy and "a low carb diet" are insufficient. Instead, Laymon is drawn to an intimate exchange with the person who has most attempted to protect him, and who nevertheless pulls him into the gravity of her own self-harm. Laymon's mother, a professor with a close fan club of adoring students, teaches Laymon that white police officers are trained to "shoot [him] out of the sky." She also enforces a regimen of reading, thinking, and writing to counteract this vulnerability with "excellence." Writing will become one of Laymon's survival strategies, a lesson in "how to assemble memory and imagination when I most wanted to die," but a young Kiese first learns to write diligently in order to earn his mother's love and avoid her punishment. He also follows her to the casino where "an addiction to losing" will trouble his relationship with her for years to come and become one of his own fraught coping mechanisms.
Centering Laymon's mother allows Heavy to make a nuanced argument. It rejects the idea that parental abuse happens independently of wider systemic forces and challenges our tendency to plot racism along a straightforward trajectory between victim and villain, or citizen and state. Reckoning with racial injustice, writes Laymon, is also about reckoning with the impact of internalized racism on familial relationships. To ignore this pernicious redirection is to lie about the way racism operates, which, according to Laymon, is "how we are taught to love in America." Laymon is not interested in forgiving America, but he is interested in the extent to which he can forgive his mother, who tells him that she "tried her best," even though, Laymon tells her, she didn't always. This amendment is equal parts rejection and subversion: Laymon's way of proposing that in a better world, excellence would never be the only condition for deserving love. In ours, its ability to protect black children from scrutiny or harm is compromised by pain, caveat, and sacrifice.
Readers who loved Long Division (2013), Laymon's first novel, might see traces of its protagonist, City, in Laymon's portrait of his own adolescence. Witty and curious, a young Kiese jokes his way through high school and into transformative relationships with peers, foes, and girlfriends. He survives a college experience split across two campuses by his response to a racist event (the perpetrators are never held responsible), and he eventually becomes a young black faculty member at an old, predominantly white university. Although he is slimmer than he has ever been, heaviness persists in the form of an unofficial advisory role, through which Laymon becomes a rock for the university's students of color. What I find most admirable about Heavy happens in these later passages: with careful eloquence and an unflinching dedication to honesty, Laymon questions whether he, or anyone, knows how to properly fill this position. The result is a stunning critique of a university system that disproportionately overcommits faculty of color to tasks of mentorship which spill into love, protection, and emotional support. To forgive his mother, Laymon must therefore also learn to parse his own failures in the career she pursued before him.
If Heavy teaches readers how to respond to racism in America, it is because it asks complicated questions that demand our participation. It asks us to recognize what we don't know about our country, our history, or our obligations to one another, and it asks us to love fat black boys from Mississippi with the same tenderness that guides our love toward the beneficiaries of white hegemony. It asks us to dredge up memories from our bodies, especially the difficult ones. Urgently, it asks us to listen to those for whom this process of somatic remembrance is arduous, and who will continue to carry the load.