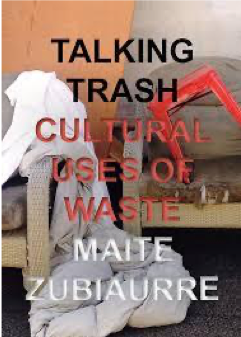 Maite Zubiaurre
Talking Trash: Cultural Uses of Waste
Vanderbilt University Press, 2019
246 pages
$35.00
Reviewed by Zoe Bursztajn-Illingworth
Maite Zubiaurre's monograph Talking Trash: The Cultural Uses of Waste investigates the racialized and gendered aspects of litter's representation in visual and literary sources. Zubiaure's objects of inquiry are eclectic, among them: the Brazilian artist Vik Muniz's Pictures of Junk, litter-based replicas of paintings in the Western art historical canon, the recently deceased French New Wave director Agnès Varda's documentary on the practice of gleaning Les glaneurs et la glaneuse and American popular cultural sources, like the 1980s Garbage Pail Kids trading cards and the recent reality television show Hoarders. Examining this diverse array of sources, Zubiaurre deftly demonstrates her thesis that "Trash is alive (and rots, like we do). Trash particularly small rubbish that lingers and is reluctant to leave the city, is our mirror. At the end, it is all about scale. The monumentality of landfills captures our imagination…But, eventually, it is the small and near where we recognize ourselves." As she contends that our sense of trash writ large ultimately atomizes into the chaos of rubbish, Zubiaurre's approach similarly identifies nuance among her these artifacts through a comparative approach within her individual chapters.
Talking Trash: The Cultural Uses of Waste is divided into four chapters: (1) "Sentient Filth: The Motions and Emotions of Garbage," (2) "Litterscapes: Topographies and Archives of Waste," (3) "Dumpsterology: A Cultural History of the Trash Container," and (4) "Dirty Innocence: Childhood, Gender, and Muck." The first chapter, "Sentient Waste," argues that trash not only moves across space and time—"in discarded artifacts—much more than in objects we still keep present and desire, and therefore are ever-present to us—the past and also the future is more tangible and ever more forceful than now"—but also powerfully moves our emotions by "speak[ing] of age and, ultimately, of decay and bygone beauty and "usefulness" as well as of abandonment and social marginalization." Zubiaurre situates this argument in response to her fieldwork at the Santa Monica Recycling Center, children's literature, such as Dan Yaccarino's picture book Trashy Town, but also photography of objects discarded on urban streets like Bill Keagy's Sad Chairs series.Zubiaurre also considers more daring trash-based interventions into the urban landscape and how they animate trash such as Francisco de Pájaro's street sculptures that construct anthropomorphic forms out of discarded objects on the streets of Barcelona, Sevilla, and New York. But, while Zubiaurre may praise the artist's "strong political consciousness," she's also not afraid to advance a critique about the stakes of his work in a Western context:
de Pájaro's well-intended…art engagé takes place on the streets of 'sanitary' cities in the Western hemisphere, where trash cans patiently wait on sidewalks, empty boxes pile neatly against trees, and Dumpsters never really overflow. This artist's garbage is still somewhat measurable, somewhat "domestic" and "individualized." It is thus relatively easy to humanize it, to create a soul for it and a face capable of expressing feelings, and of triggering emotional responses in others.
Similarly, in this chapter, Zubiaurre points out a gendered critique of the Californian photographer Gregg Segal's 7 Days of Trash Series in which he photographed people, many of them women, with seven days of their trash, by describing how "[t]he images…perfectly align with the cliché of the dirty female body so deeply ingrained in Judeo-Christian culture."
It is in the second chapter, "Litterscapes: Topographies and Archives of Waste," which focuses on how "litterscapes leave their imprint in urban and natural surroundings and…elicit a series of reactions (and actions) among artists and regulators," that Zubiaurre's monograph is at its most politically urgent in her discussion of artwork created from the discarded belongings of migrants in the US-Mexico desert in a subsection of the chapter, "Border Trash: Archiving Immigration." Here, Zubiaurre carefully suggests the intertwined preoccupations of "[e]nvironmentalists, xenophobes that pose as ecologists, and artists whose work is infused by ecological ethics." By closely analyzing and comparing different art works and anthropological texts that engage with discarded belongings on the US-Mexico desert—anthropologist Jason De León's Undocumented Migration Project, and an art project, El Sueño americano by Thomas Kiefer, an ex-Border Patrol Facility janitor, and Guillermo Galindo's sculptures like Piñata de cartuchos, a metal piñata in the shape of a West African percussion instrument covered with shell casings from a Border Patrol shooting range—Zubiaurre creates a nuanced account of the ethical pitfalls and assets that these works bring to the forefront in discussions of the environmental impact of migration.
Zubiaurre's comparative approach in Talking Trash's third chapter, "Dumpsterology: A Cultural History of Waste," couples with a sense that dumpsters are "a powerful reminder of how life unavoidably circles back into nonexistence." In this chapter, the author picks up her previous critical thread—the gendered aspects of artistic and cultural engagements with trash—to discuss masculinized representations of the dumpster and dumpster-diving, particularly in films. Zubiaurre contrasts the emphasis on control and hygiene as a moral imperative in a 1940s promotional film produced by the Dempster company to advertise their newest waste management invention—the Dempster/Dumpster aka the dumpster—with the avant-garde documentarian and Nouvelle Vague icon Agnès Varda's 2006 documentary The Gleaners and I, which grants autonomy and compassion to discarded objects, rural gleaners, and urban dumpster divers. Jeremy Seifert's 2009 documentary Dive! Living Off America's Waste, which the Zubiaurre suggests exhibits a sense of masculine entitlement and "willful ignorance of how the color of the skin radically changes the meaning and consequences of urban scavenging," provides further contrast.
The final chapter, "Dirty Innocence: Childhood, Gender, and Muck," brings together Zubiaurre's emphasis on trash as it embodies the uncontrollable, chaotic qualities attributed to women in a patriarchal society with the fact that these qualities are also ascribed to children: "Western culture has made a point of consistently linking filth to infancy, and by extension to women, to the lower social classes, and to whole cultures deemed 'childlike' or 'primitive.'" Zubiaurre's archive in this chapter ranges from toys made for children, the 1980s Garbage Pail Kids Trading Cards, to memoirs written by the daughters of hoarders like Jessica Sholl's Dirty Secret: A Daughter Comes Clean about her Mother's Compulsive Hoarding, and a German coming of age novel, Tschick by Wolfgang Herrndorf,in which the novel's male protagonists ultimately use an adolescent girl who they meet in a landfill as a means to explore their sexuality.
Aside from the impressive global and disciplinary breadth of Zubiaurre's archive and her gift for drawing nuanced distinctions between her objects of inquiry, the author also demonstrates a self-reflective streak rare in academic writing. "Museums aren't landfills (though sometimes they are morgues), and books (or mirrors, for that matter) aren't either. Garbage does not thrive, nor does its true nature come to the fore when encased in the rigid and sanitized quadrature of museums structures and books" concludes Zubiaurre in Talking Trash, a text that represents litter-based artifacts in all their multifariousness and apt messiness. Since Talking Trash paints a picture of trash-based artifacts in broad and fine strokes, the book may be of interest to scholars working on global visual culture, rubbish theory, and ecocriticism.