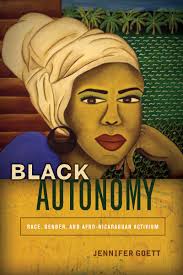 Jennifer Goett
Black Autonomy: Race, Gender, and Afro-Nicaraguan Activism
Stanford University Press, 2017
240 pages
$26.00

Reviewed by Daisy Guzman
Jennifer Goett's Black Autonomy: Race, Gender, and Afro-Nicaraguan Activism (2017) centers the experience of Black women activists on the Caribbean coast of Nicaragua. These Black women and their extended families combat state-violence and formulate strategies that present their desire for national recognition in Nicaragua. Goett uses the personal account of these women that depicts their establishment of Black autonomy as a mode of identification across the African diaspora and their presence in Central America. In Central America Blackness is seen as always displacement from the mestizo nation-state. Creole and Garifuna people continue to strive for autonomy and sovereignty in the Caribbean coast. Goett's feminist method provides a sense of transparency and accountability that displays her positionality as both an academic and an activist. Her work engages the struggle of Afro-descendant women against state-sanctioned violence in Nicaragua. Her work contributes to the literature that shed light on the antiblack nature of multiculturalist agenda across Latin America. Following the establishment of multiculturalism, there is a need to continue to examine cultural distinctions amongst communities in Latin America.
Goett's feminist methodology and activist anthropological pedagogy models the call to action led by Edmund T. Gordon and Charlie Hale. Her work in the NGO (nongovernmental organizations), mapping creation, and report writing is proof of the activist engagement with the community that was part of her scholarship and fieldwork. Her attention to activism and communal contributions can be considered taking on accountability and truly giving back. Although any ethnography comes with potential harm and consequences, there are methods of engagement that alleviate communal burdens and provide resources for social improvement. Goett's feminist ethnographic methodology would have benefited from a deeper engagement with Black feminist methods and praxis, such as citational practices. I say this to reiterate Goett's use of a feminist methodology, which at times was unclear in exactly how it differed from a non-feminist method and fieldwork approaches.
The community of Monkey Point, Nicaragua exists outside the realm of mestizaje and the homogenous illusion of la raza cósmica in Central America. Monkey Point, Nicaragua is a semirural area due to its location and inaccessibility on the southern Caribbean coast. A combination of Miskitu, the Rama, the West Indian migrants, Monkey Point as a region is a creolization of language, culture, and diasporic belonging. Like their neighbors on the Caribbean coast of Guatemala, Honduras and Belize, this space is perceived by the mestizo majority as racially and culturally distinct to the nation-state. Goett Builds on a foundation set forth by the previous academics that engaged Black Central America as a part of the African diaspora. In Central America and across the Americas, the Black body is seen as always arriving. The dis-belonging yet belonging of Black in Central America is a legacy that Goett contributes to, her theory and methodology create a clear historical and political picture of Monkey Point.
Goett introduces the matriarchs of various families of activists in Monkey Point. Women such as Miss Helen, Miss Bernicia, and Miss Helen Presida Wilson, provide an affective retelling of the political position of Monkey Point during war era and after. Goett navigation of the history and political conflict began with oral history passed down through generations of women and shared amongst their kin. Goett's book centers the narratives of women after the multicultural reforms of the 1990s and shows the anti-black rhetoric that still lies in the underbelly of politics across the Americas. The Anti-Blackness radiates through political discourse in Central America, as shown in the impoverishment, incarceration, and over-policing of Black people. The search for autonomy, sovereignty, and socio-economic stability is what the Afro-descendants in Central America still strive for in the present. Jennifer Goett masterfully shows the generational trauma of political unrest in Monkey Point and the impact of the patriarchy as a form of power and control.
Goett shifts gears to discuss the sons of some of the women which makes clear the generational difference in active resistance and cultural expression. As men leave Monkey Point, the women form secure units of emotional, financial, and familial support. She explores the impact of drugs in post war Nicaragua, drug abuse amongst Afro-descendants and yet Monkey Point serves as a refuge and an area of recovery. The drug abuse was not isolated to men but an epidemic amongst both the young men and women. Goett then addresses the gender dynamics of mobility amongst Monkey Point community members. In this chapter, the relation between young creole young and mestizo soldiers calls for an intersectional approach for the discussion of sexual abuse as a tacit of control the government employs. Through the display of complex gender dynamics across generations in Monkey Point, Goett addresses patriarchy as a form of power and violence.
Finally, her subjects self-identifying themselves as Black and active members of the African diaspora sets her work apart from her predecessor Dr. Edmund T. Gordon's work in the 1970s and 1980s. Yet Goett's work builds on his work alongside cultural anthropology scholars such as Charlie Hale, Juliet Hooker and Mark Anderson. The development of Black Autonomy in other works by anthropologists shows a critical time in Afro-indigenous studies and Black Central America work done at the University of Texas-Austin. Her methodology displays the balance of researcher, activist, and community advocate through an intimate understanding of Afro-descendant women and their struggle for liberation and autonomy.